✨ Free Shipping Over $75 ✨
Customer Reviews
01/15/2022
Carly R.

United States
The perfect way to commemorate my grandma!
I never even thought about a photo ring until I came across this one. I fell in love right away and knew exactly who would be in my ring and what photo I would choose. My grandmother as a young woman. My grandma died two years ago on 11/19. I miss her more than I realized I would. I knew I would suffer a huge loss and suffer with feeling like a piece of me was missing but I didn't take into account how much I relied on her and her life experience. I told her everything and she always was so accepting, loving, open minded, and willing to share her experience without pushing or shaming. In fact, she always built you up. This ring makes me feel like she is always with me and her picture reminds me to act like her which was humbly, gratefully, and cleverly fight for your place in this world. The vintage photo goes perfectly with the vintage vibe of the ring.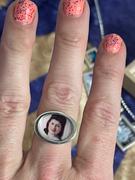 11/30/2018
Carla H.

US
Love my photo ring!
Beautiful photo ring! I love the details of the photo that can be seen even in the small scale that it is! I would definitely recommend this product!